Jitka Storm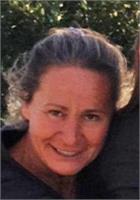 Warm Greetings to you,
The lure of The Last Frontier brought me to Alaska. I cherish the great vistas and clear air. My exercise routine brings me renewed energy and feelings of connection, especially when I practice during Alaska's endless sunsets.
Diverse situations, life challenges and extensive travel provided me with unique opportunities to learn from exceptional teachers. My current philosophy is: Do no harm. Transform conflict into a growth adventure. Share and apply knowledge so others experience less pain and more harmony.
Let's cultivate health and peace together by sharing our space, time and vital energy.
Jitka Storm
Fitness Instructor
Certified Qigong Teacher
International Travel Guide
Czech-Alaska Society President
Jitka Storm instructs the following:
This movement work protects the body and mind from being compromised. We work to prevent potential compromise, heal what has been compromised, and target the whole body to awaken the tired and calm the overactive.

The routine incorporates stretching, TaiChi, Qigong Meditation, energy work and breath. Key parts of the exercise will address balance, coordination, strength and flexibility.

No previous experience is needed. Comfortable, loose and layered clothing will contribute to your comfort throughout the class.