Rabia Duddy - Turkish Romani Dance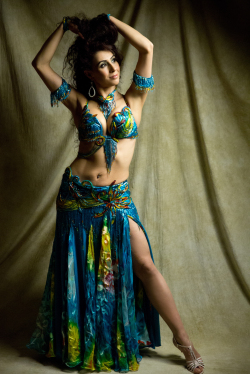 Rabia is an award winning, internationally acclaimed performing artist, researcher, instructor, perpetual student and one of the leading performers of Turkish Romani Dance in America.
Rabia found her love of music and dance in Turkey as a young child. She started dancing, drumming, and performing during traditional Henna Nights where her mother played a frame drum. At the age of seven, she was introduced to the stage at Turkish Elementary school and started her journey with Turkish folklore. Her dancing path continued through middle school, high school, and college, and has grown consistently throughout her life.
Rabia grew up listening and dancing to the complex rhythms of Turkey's beautiful Aegean region, where Romani people still exist. Her love of Turkish Romani, Folklore, Oriental dance, music and culture began at an early age and she continues to be a perpetual student. Her influential teachers were grade school folklore instructor Mehmet Hoca, her mother, and local dancers.
While her unique dancing and teaching style is rooted in Turkish culture and tradition, she now uses western vocabulary to bridge the cultures. Her style is a unique blend of Turkish Romani dance, Turkish Folk dance, Turkish, and Middle East Oriental dance. She continually passes her enthusiasm for improvisation to her students, demonstrating how to physically connect with melody and rhythm, using the body as a visual musical instrument.
Rabia has performed at numerous events in Turkey as a part of her folklore education and has taught throughout the world. Her formal education includes a Bachelor of Arts in Physical Education with an emphasis in Athletics and Dance and Master of Science in Nursing Education. As a surgical nurse, she has a great understanding of the physical body. She continually uses her education and professional knowledge to enhance her students' understanding.
NO WORKSHOPS SCHEDULED AT THIS TIME