Shauna Taylor - Odissi Temple Dance Instructor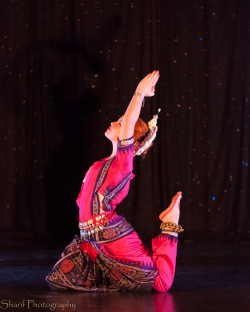 Shauna Taylor began to dance as a teenager, using movement to discover and express herself in a way that words cannot. Through her dance practice, she developed confidence, grace, and poise as well as expanded her strength, courage, and love. Shauna values her dance practice as a sanctuary where emotions are accepted, where she can be free and open without judgment, and where she can truly connect with herself, others, and the universe.


Shauna started dancing in Anchorage, Alaska learning Egyptian style Bellydance. After dedicating eight years to studying this style, she incorporated her knowledge of Daoist Theory and Oriental Medicine to develop a curriculum of Self Cultivation Bellydance that she named Oriental Healing Bellydance. Shauna taught this class for 2 years, helping students reduce, manage, and eliminate a wide spectrum of physical and emotional pain.

Shauna discovered Odissi in 2009 at a workshop series taught by Revital Carroll. After a second workshop series in 2010, Shauna moved to Santa Cruz to study regularly with Revital. Through her two-year intensive study with Revital and her participation in Shakti Bhakti Ensemble, she experienced great enrichment, fulfillment, satisfaction, and self growth.

Odissi challenges the dancer in every way, and demands that she become a better person. Through this dance form, Shauna experiences a unique calmness and quietness in her mind and her center, while her body is moving quickly and fluidly. She then practices taking this attitude with her into her daily life. Odissi has taught Shauna to interact with the world openly from her heart. Most profoundly, Shauna had the great honor and privilege to perform Odissi for audiences in the Bay Area, California, in Athmallik, Odisha (India), and right here in Anchorage, Alaska.

Contact Shauna at: shauna.wonder@gmail.com or 907-306-7956

WATCH VIDEO INTERVIEW BELOW