Heal from Within


"As a dedicated practitioner of the Daoist way, it is my honor to guide others on their path of self-cultivation. The process of eliminating that which no longer serves us, provides for a more meaningful existence." -- DaoShima

Walk the Path of Self-Cultivation



"Using Daoist principles, we foster a sense of community with classes by donation every Saturday and Sunday. I'm blessed to have Jade Lady Studio as a place to recharge my energy. My life has taken a wonderful new direction since I began personal cultivation practice.

If you want to explore the holistic benefits of Meditation, Qigong or TaiChi, seek out the Jade Lady Studio." - LaoShih Holly



A gift for you!
Click to listen - Right click to download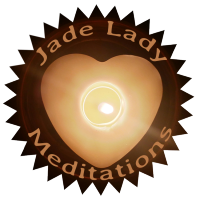 DaoShima created these recordings a few years ago to provide direction for those who could not attend formal classes. Each recording begins with directions and concludes with a guided meditation.


Directions for seated meditation, followed by a guided breathing meditation. Music by Master Zhongxian Wu.


Directions for standing meditation, followed by Three Centers Meditation. Music by Master Zhongxian Wu.


---