QIGONG CERTIFICATION
Offered Spring & Fall
Spring 2019
April 13 - May 19
NO CLASS: 5/4 & 5/5

Make a deposit - Save your space!
Limited to 8 participants
> 20 hrs Sat/Sun, 2:30-4:30pm
> 10 hrs Qigong Classes (weekdays)
30 hrs

** Makeup sessions available
Increase physical stamina
Strengthen mental focus
Lead a class
Make appropriate corrections
Give clear directions
Demonstrate postures
Answer questions
Work with limited abilities



Payment plan available
Call Jade Lady 907-562-2863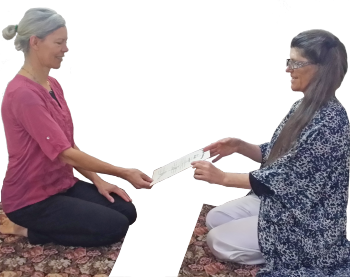 Qigong Teacher Testimonials

DaoShima is an encouraging teacher that patiently and carefully shares her knowledge. I have seen a change in myself in just a few short months. The healing and focusing help me release tension and stress while (at the same time) opening the energy meridians. I am a very enthusiastic follower and hope to continue these studies. - D. Valentine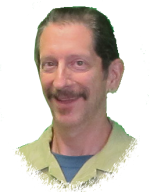 DaoShima is one of four teachers I've had in eleven years of practicing TaiChi. Working with her inspired me to become a teacher myself. She has so much knowledge and shares it in a way that brings out your own innate abilities. She asks a lot of you and gives you the confidence to achieve it. - R. Rainery, Founder of Rainstorm T'ai Chi La Peñita, Nayarit, Mexico


DaoShima is an excellent instructor, whose teaching experience and knowledge of Qigong is evident. By simply practicing one or two Qigong movements with my clients, I notice an immediate difference in their mental relaxation and focus. I highly recommend this course. – R. duSaint



DaoShima Susan is a dedicated patient teacher. From her attention to detail in teaching such things as the correct posture for standing meditation and the exact movements in TaiChi, I am learning how to relax muscles and let my energy flow. - M. Zacharias

DaoShima's Certification course greatly increased my focus and strength. I highly recommend this course, whether you have started a meditation journey or only want to begin, DaoShima can show you the way. – K. Pierce



This certification is an amazing experience. Not only did I learn the beautiful Baduanjin Qigong, inside out, but I was able to tap into an inner source which really opened up my skills as a teacher.
 - C. Bydalek



This is a very complete program that added tremendously to my teaching abilities. It highlights teaching about the meditative state, body alignment, functional abilities, movement/breath, and Qigong energy movement. Upon completion, I felt very competent to teach. Since becoming a certified Qigong Teacher, I have taught a weekly seniors class, as well as a weekly class at an assisted care facility. - M. Mumma

From the Daoist tea service to video critiques, this course was a perfect blend of information, immersion and interaction. I now feel fully capable and confident to share Qigong with others. - C. MacCay



DaoShima is a compassionate teacher who has an intimate understanding of the struggles of her students. She is an excellent guide on the Way. - K. Remsen
TAICHI CERTIFICATION
10-Movement TaiChiChuan
Start Anytime!
Select class & private sessions that fit your schedule
Attend 6 1st Saturday TaiChi Intensives (12 offered)
> 80 hrs TaiChi Classes
> 20 hrs Qigong Classes
> 24 hrs Intensives (4 hrs/mo)
> 12 hrs Private Sessions
> 9 hrs Student Teaching
145 hrs

Course duration is 6-12 months, depending on your pace.
TaiChi Teacher Certification emphasizes:
Increasing flexibility & balance
Developing good form & posture
Making appropriate corrections
Giving clear directions
Demonstrating postures
Working with limited abilities
Understanding the influence of intent
Payment plan available
Call Jade Lady 907-562-2863


To me, teaching TaiChi means living life… a life that transforms you. You will understand cultivation on a new level, and you will share that information to help others find purpose. Our fast-paced world increases disease and mental anguish, and keeps us from loving our life and relationships. With your help, we can bring contentment to the lives of countless families throughout our Alaska community.
TaiChi Teacher Testimonials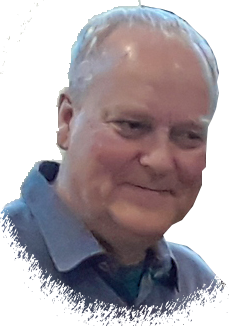 After a suggestion from my chiropractor, I attended a community class at Jade Lady to help with my back and hip issues. After experiencing one session, I signed up for the Qigong Instructor program. One of the great parts of this training was the opportunity to explore in depth different forms of Qigong. In addition, the ability of our instructors to explain the process and adhere to clear lesson plans made what could have been an arduous process quite enjoyable. After completing the Qigong Certification, I signed on for the TaiChi Instructor program. Again, I was impressed with the depth of knowledge. This was not a one day or weekend course, it took several months of 3 days per week to finish. Upon completion I had a great understanding of the 10-movement Yang style TaiChi form, and was given the chance to Student Teach at the community class. I found the overall experience at Jade Lady challenging and transformative. Now entering my second year of teaching Qigong and TaiChi in the Mat-Su Valley, using the skills learned at Jade Lady, I take great pleasure helping my students manage pain and illness using Qigong and regain strength and balance through the TaiChi form. When time allows I will be moving towards the 24-movement certification. - C. Remick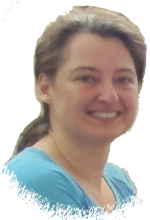 The TaiChi Certification program at Jade Lady integrates both theory and practice to create excellent educational opportunities. Each class is a rewarding experience that helps me develop a framework through which I can gain a deeper understanding of who I want to be as a TaiChi practitioner and teacher. The program adopts interactive teaching methods that make learning meaningful and fun. If you truly immerse yourself in the program, you will learn about self-respect, dignity, and love, and grow as a person in ways unimaginable. - I. Goksel
I had practiced TaiChi for over a year with a number of instructors before I met DaoShima. In our first meeting, I demonstrated movements to the best of my ability, which I thought were pretty good. It didn't take long to find out I had an instructor who knew what she was doing and truly cared about the quality of the work. I was now being instructed by someone who went into great detail to "teach" me TaiChi. This education was outstanding! DaoShima's Jade Lady community promotes good energy and a wonderful learning experience. When you complete training at Jade Lady Meditation, you will not only be confident and ready to teach, you will be able to accomplish whatever goals you have. – T.J. McGuire
What a wonderful program! The TaiChi Teacher Certification is a great opportunity to go deeper into the practice of TaiChi and scratch the surface of Daoism. It brings together a supportive community of people from different walks of life, united in the search for healing and well-being. - K. Lauenstein
Private Study
Tailor-made personal development with DaoShima
TAICHI AND QIGONG
Learn TaiChi or Qigong at your own pace, or come with specific movements you want to improve.
EMOTIONAL HARMONY
Minimize stress and anxiety by learning to manage emotions in a way that generates flow and harmony. Together, we will develop a meditative program that fits your lifestyle.
CHART A JOURNEY
Manifest a goal or chart a path of self-discovery. Utilize your inner vision to turn obstacles into stepping-stones and realize your spirit path.
> Private/Semi-Private Session
(1 or 2 clients): $90/hr
> Private/Semi-Private 8 Sessions
(1 or 2 clients): $595 (~$75/hr)
---
TaiChi / Qigong Overview
TaiChiChuan, or Grand Ultimate Fist, is considered the ultimate martial art. It was created to develop superior strength in monks who defended the Daoist lifestyle against other martial warriors. TaiChi is practiced to develop focus, grace, balance, and emotional well-being. The most popular are family forms: Yang-style (from Yang Chung Fu) and Chen-style (from General Chen of Chen Village). Yang Chung Fu developed Yang-style TaiChiChuan in the early 1900s after studying with General Chen. Yang-style TaiChi is known for its slow-motion and smooth movements. The original 108-Movement Yang-style form was simplified into the popular 24-Movement form in the 1960s to encourage competition throughout China. Execution of the movements will vary depending on the martial intent.

The art of Qigong was preceded by shamanistic practices originating in Siberia. As the Siberian practices migrated, they emerged as Qigong (a post-revolution term) in China and as Yogic practices in India. Qi (energy) + gong (work) was developed by Daoist monks to counteract the loss of body strength after hours of seated meditation. Composed of simple postures, slow movements, and visualizations, Qigong has been practiced for centuries to strengthen the body-mind-spirit connection, prevent disease from manifesting, and to diminish the effects of disease once it has taken root in the body. There are a multitude of Qigong forms originating from various Chinese temples and martial arts families.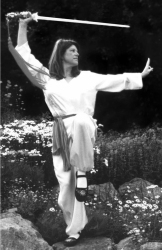 TaiChi Sword is the art of the healer. Learn to extend Qi into the hands and then project Qi into the sword. Techniques learned in Intermediate TaiChiChuan will provide leg strength and posture. This form will focus on upper body strength, balancing the sword with the fingers, and developing wrist articulation. While TaiChiChuan opens up the ankles and strengthens the legs, Tai Chi Sword opens up the wrists and strengthens the arms.