QIGONG CERTIFICATION

Offered Spring & Fall (check dates)

> 18 hrs Saturday/Sunday, 12-2pm
(No Class Sat, May 5th)
> 16 hrs Qigong Classes (weekdays)
34 hrs

** 4 hrs in makeup sessions available
Increase physical stamina
Strengthen mental focus
Lead a class
Make appropriate corrections
Give clear directions
Demonstrate postures
Answer questions
Work with limited abilities
REGISTER NOW
Payment plan available
Call Jade Lady 907-562-2863
---

TAICHI CERTIFICATION
10-Movement TaiChiChuan
> 50 hrs TaiChi Classes
> 30 hrs Qigong Classes
> 24 hrs Intensives (4 hrs/mo)
> 10 hrs Private Sessions
>
11
hrs Student Teaching
125 hrs
Course duration will be 6-8 months, depending on student's pace.
Start Anytime!
REGISTER NOW
Payment plan available
Call Jade Lady 907-562-2863



Testimonials

"DaoShima is one of four teachers I've had in eleven years of practicing T'ai Chi. Working with her inspired me to become a teacher myself. She has so much knowledge and shares it in a way that brings out your own innate abilities. She asks a lot of you and gives you the confidence to achieve it." - Richard Rainery, Founder of Rainstorm T'ai Chi La Peñita, Nayarit, Mexico

DaoShima is an excellent instructor, whose teaching experience and knowledge of Qigong is evident. By simply practicing one or two Qigong movements with my clients, I notice an immediate difference in their mental relaxation and focus. I highly recommend this course. – Robin duSaint



DaoShima's Certification course greatly increased my focus and strength. I highly recommend this course, whether you have started a meditation journey or only want to begin, DaoShima can show you the way. – Kep Pierce

This certification is an amazing experience. Not only did I learn the beautiful Badwanjin Qigong, inside out, but I was able to tap into an inner source which really opened up my skills as a teacher.
 - LaoShih Carmen Bydalek



From the Daoist tea service to video critiques, this course was a perfect blend of information, immersion and interaction. I now feel fully capable and confident to share Qigong with others. 
- LaoShih Charlotte MacCay

"DaoShima is a compassionate teacher who has an intimate understanding of the struggles of her students. She is an excellent guide on the Way." - Shima Kathi Remsen, LMT


Tai Chi Chuan, or Grand Ultimate Fist, is considered the ultimate martial art. It was created to develop superior strength in monks who defended the Daoist lifestyle against other martial warriors. Tai Chi is practiced to develop focus, grace, balance, and emotional well-being. The most popular are family forms: Yang-style (from Yang Chung Fu) and Chen-style (from General Chen of Chen Village). Yang Chung Fu developed Yang-style Tai Chi Chuan in the early 1900s after studying with General Chen. Yang-style Tai Chi is known for its slow-motion and smooth movements. The original 108-Movement Yang-style form was simplified into the popular 24-Movement form in the 1960s to encourage competition throughout China. Execution of the movements will vary depending on the martial intent.

The art of Qigong was preceded by shamanistic practices originating in Siberia. As the Siberian practices migrated, they emerged as Qigong (a post-revolution term) in China and as Yogic practices in India. Qi (energy) + gong (work) was developed by Daoist monks to counteract the loss of body strength after hours of seated meditation. Composed of simple postures, slow movements, and visualizations, Qigong has been practiced for centuries to strengthen the body-mind-spirit connection, prevent disease from manifesting, and to diminish the effects of disease once it has taken root in the body. There are a multitude of Qigong forms originating from various Chinese temples and martial arts families.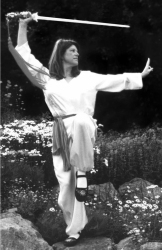 Tai Chi Sword is the art of the healer. Learn to extend Qi into the hands and then project Qi into the sword. Techniques learned in Intermediate Tai Chi Chuan will provide leg strength and posture. This form will focus on upper body strength, balancing the sword with the fingers, and developing wrist articulation. While Tai Chi Chuan opens up the ankles and strengthens the legs, Tai Chi Sword opens up the wrists and strengthens the arms.
---
Barefoot Dance

Odissi, a famous classical Indian dance from Orissa, is almost two thousand years old. This highly inspired, passionate, ecstatic and sensuous form of dance originated in the Devadasi tradition. Rulers of of the Orissa region built magnificent temples, which inspired and nourished Odissi practice. Prior to the 17th century, Odissi was held in high esteem, with even the royalty becoming accomplished dancers.

One of the most distinguishing features of Odissi is the Tribhangi, which divides the body into the head, bust and torso. The Tribhangi creates characteristic "twisted" poses. Also, Mudras or "hand positions" are used to communicate stories of nature and Krishna.

Today, Odissi is a codified classical Indian dance rooted in love, joy and intense passion.




---
TRIBAL BELLYDANCE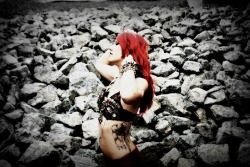 Tribal Style Bellydance is a modern style created by Carolena Nericcio-Bohlman. This form is clearly defined as group improvisation. The early roots are accredited to Jamila Salimpour, who fostered a fusion of folkloric dance styles from the Middle East, North Africa, Spain and India. After "cataloging" movements she learned from native Middle dancers, she began creating a repertoire terminology which is still the basis for the Tribal Style. Jamila's student, Masha Archer and Masha's student, Carolena Nerriccio, added more choreography and codification. Their signature style was registered as American Tribal Style Bellydance.


Today, Tribal represents everything from folkloric inspired dances to a fusion of ancient dance techniques and covers many flavors of American Bellydance, crossing over with modern, jazz, dance theater and hip hop.
Private Sessions with DaoShima
Tailor-made personal development
TAI CHI CHUAN AND QIGONG
Learn Tai Chi Chuan or Qigong at your own pace, or come with specific movements you want to improve.
EMOTIONAL HARMONY
Minimize stress and anxiety by learning to manage emotions in a way that generates flow and harmony. Together, we will develop a meditative program that fits your lifestyle.
CHART A JOURNEY
Manifest a goal or chart a path of self-discovery. Utilize your inner vision to turn obstacles into stepping-stones and realize your spirit path.
TAICHI 10 OR TAICHI 24 TEACHER CERTIFICATION • 40-HOUR PROGRAMS
Available through Private Study - Ok to share with one friend
40 hours in-person over 5-10 months
Prerequisites may apply
Increase flexibility & balance
Develop good form
Make appropriate corrections
Give clear directions
Demonstrate postures
Work with limited abilities
Understand how martial applications influence form
To me, teaching Tai Chi means living the life… a life that transforms you. You will understand the meaning of cultivation on a new level; and you will spread that information to help others find peace and purpose.

Our fast-paced world with constant stimuli challenges mental and physical well-being, it increases stress-related disease and mental anguish, and keeps us from loving our life and relationships. With your help, we can bring joy and contentment to the lives of countless families throughout our Alaska community.