About DaoShima
At my studio in Anchorage, Alaska, I offer weekly classes, weekend workshops, and private sessions. I use Daoist philosophy, Meditation, Qigong, Tai Chi Chuan, and meditative healing techniques to improve the physical, mental, and spiritual well-being of my students.


After spending years cultivating an academic life, I realized my real passion was not for examining life but for living it! Although my formal studies were not in vain... both my Bachelor of Science and my Master of Public Administration gave me a vocabulary to connect with other indoctrinated intellectuals who have lost their identity in a label.


I began my Daoist studies in 1996 with Master Shifu Pei Wo Lun. After ten years of dedicated study, I was honored with the title of Shima, or mother-teacher, the female counterpart to Shifu. It was my good fortune to be mentored by a Master who often saw in me what I could not see in myself. He opened my eyes to self-limiting mental constructs and insisted I study with other Masters.


In the beginning, as with most students, I mimicked my teachers' movements and attitudes and found respite in their strength. As I moved into teaching, however, I realized I did not have the mental strength to manage the many challenges of students and clients. As years passed, my meditative practice led me deeper inward and I began to understand the importance of cultivating the softer side of life, the Yin aspect of self. Now my capacity to offer strength seems quite endless, and I continually look forward to endearing myself to those who seek my counsel.


My other teachers include Master Wu Zhongxian, Master Jiang Jiang-ye, Grandmaster Zhang Yuan Ming, Master Yun Xiang Tseng, Master Yang Zhen Duo, Master Yang Jun, Master Ho Wei Chi, Master Helen Wu and Ken Cohen.


Enroll Now - FIRST CLASS HALF PRICE!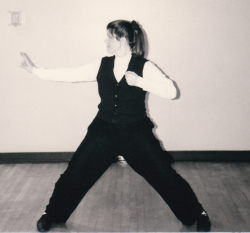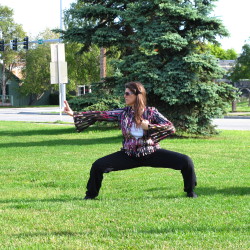 1996 – My 1st Class
Horizon House Assisted Care